May 14, 2014
It's hard to believe it's already been 8 weeks since Greyson was born. Time really does fly, and it's making me emotional already! Since our family is complete now, I'm even more sappy this time, realizing how quickly the tiny baby stage passes. I look down at him and can hardly believe how filled out he is already, and how he doesn't look like a newborn at all anymore. It makes me appreciate each moment with him though (yes, even the early morning feedings and "off" nights when he won't go back to sleep for an hour or more). 🙂
My due date was March 17. I had an appointment with my midwife and decided to let her sweep my membranes. I didn't have it done when I was pregnant with Landon, and he came one day after my due date. I decided to try it this time and see what happened (looking back, I wish I hadn't, but that's a different story). I was crampy and uncomfortable the rest of the day, but decided to go for a long walk anyway, to see if that would help speed things up.
March 18 – I had irregular contractions all day. Went on another walk. Starting around 5:30pm my contractions became more apparent, but definitely still irregular. 7:30pm came and they were happening once or twice each hour, so I called my mom and decided she should spend the night, just in case. I was up all night because the contractions were happening a few times each hour.
March 19- By 3:15am the contractions were 10 minutes apart and getting more painful. 4:15am came and they were 5 minutes apart. I texted my friend and told her it was time to head over. She was coming to stay at the house with Landon so my mom could leave and join us at the hospital. We grabbed our bags and Taylor and I left for the hospital. We arrived at the hospital at 4:55am and I was checked in immediately (thank goodness I pre-registered!)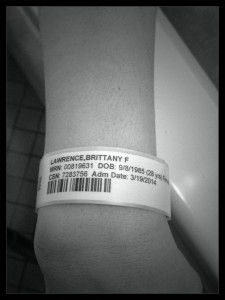 The nurse checked me and I was at 4cm. She said I'd have to wait to get in the tub for a little while, because they wanted to make sure I was in active labor and that I wouldn't need to be sent home. When she left I told Taylor I'd cry if they sent me home! By that point, I was already exhausted from being up all night with contractions and I knew I was progressing, so I was committed! 🙂 Thankfully, I didn't get sent home. After they monitored Greyson's heartbeat for a while, they let me get in the bathtub. It instantly relaxed my muscles. I was hungry and weak, so I sipped on apple juice and ate some saltines. I knew it might be a while before I could eat again, but it was all I could get down. I felt so nauseous for the first hour or two.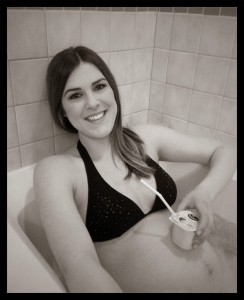 Don't worry, that smile didn't last long…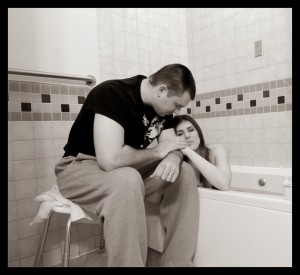 So glad my mom captured this incredibly special moment with my husband.
They didn't check me again the entire labor process, so I had no idea how quickly I was progressing to each cm mark. Contractions seemed to slow down a bit, which surprised me. They brought in the birthing tub, which took about 45 minutes to set up and fill with water. At least I got to sit in the bathtub while I waited for that. Once the birthing tub was up, I transferred there. It was set up in the hospital room I was already in, so I didn't have to go to a different area, which was nice.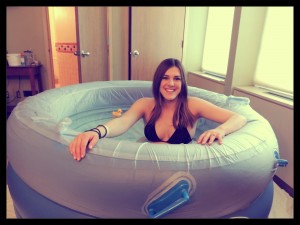 Swollen and tired, but glad to be in the water.
My labor with Landon was 6 hours, start to finish. I just assumed my labor with Greyson would be as long or shorter. I was SO WRONG. It didn't help that there was a HUGE clock on the wall staring me in the face the entire time. I couldn't resist watching it. Once I passed the 6 hour mark I was a little discouraged, since I then had no idea how much longer I might be in labor. Little did I know, I wouldn't meet my new little man for another TEN hours! Yep…. 16 hours my second delivery, and for some amazing reason, only 6 with my first. No idea how that all worked out.
I was surprised by the fact my contractions didn't regulate for quite some time. They seemed to calm down when I was in the water, which didn't happen with my first delivery. The moment I stood up and got out of the water each time, contractions came on hard and fast and were much more painful. I tried to allow myself 30 minutes in the tub when I got really tired, and then force myself to get out and walk around or stand up for a while to hopefully get things going more.
In both my labor experiences, I didn't want to be touched. And I definitely didn't want anyone talking to me while I was having contractions. So…. since I apparently went "inward" during more painful moments, my husband didn't know what to do with himself. So what does he do? The only logical thing that makes sense of course…. he NAPPED. Yes, you read that right. He took a snooze while I was going through contractions, walking around and getting in and out of the tub. Don't worry…. I make it sound like he checked out, but I gave him permission. 🙂 I figured, why shouldn't one of us rest while we can? No point in having him just sit there and stare at me, especially when I didn't want him to touch me or talk to me, haha. Before and after his little nap he was a great support and did anything I needed him to. Good man. 🙂
I remember my midwife coming in when my contractions were almost unbearable. She wanted to check me at that point, but I couldn't move. I told her I couldn't even stand up and get out if she wanted me to. If felt like my body was working against me. With the way I was sitting in the tub, and draping my arms over the sides, my circulation had gotten funky, which made my hands swell and tingle. They cramped up and I could barely open them. My lips got swollen too, from the way I was breathing and they were numb. I just remember being completely miserable and in the most pain I've ever experienced. I was praying and wanting someone to take it away. I was so exhausted and honestly questioned how much longer I could go on.
Looking back, it's amazing what our bodies are capable of doing. I knew it was my choice both deliveries to decline medical intervention. It was a personal decision, and I know some people think I'm crazy, but that's just what I wanted. This delivery made me completely understand why some women choose to have epidurals though!!! I was just about at my breaking point this time around. It certainly wasn't what I thought my water birth experience would be, but that's ok. The important thing is that I had a healthy, beautiful baby boy to show for all that work and pain! 🙂
At the bottom of my birthing tub, it said "You are a strong woman". I loved that! What a good phrase to put at the bottom of the tub women will be using to have natural, med-free deliveries, and could definitely use a little more encouragement.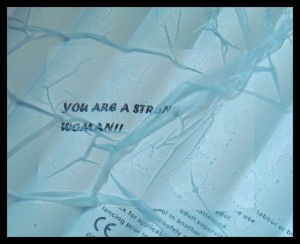 I finally willed myself to get out of the tub so my midwife could check me and I could try to go to the bathroom. When I got out and started walking toward the bathroom, I got an incredibly intense contraction and felt the urge to push. It was at that point my water finally broke. She then said in her calm, nurturing voice, "Ok, well… you can just pee in the tub if you need to. If you want to have this baby in the water, we need to get you back in. "Immediately after I got back in, I was pushing with all my might, and 2 minutes later, my amazing, perfect new boy was born. Thank God!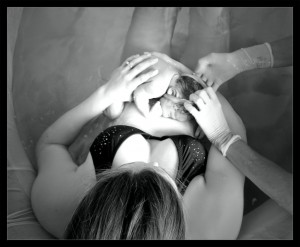 He came out pretty purple, and his umbilical cord was wrapped around his neck. It worried me for half a second, but then when my sweet midwife used that calm, nurturing voice again and said, "It's okay. He's fine. I'm just going to unwrap it", it put me at ease. He WAS fine, and he was all mine. So so thankful he was finally here in my arms. Greyson Lee Lawrence was born on March 19, 2014 at 2:13pm. 7 lbs. 15 oz. and 21 inches long.
~Brittany